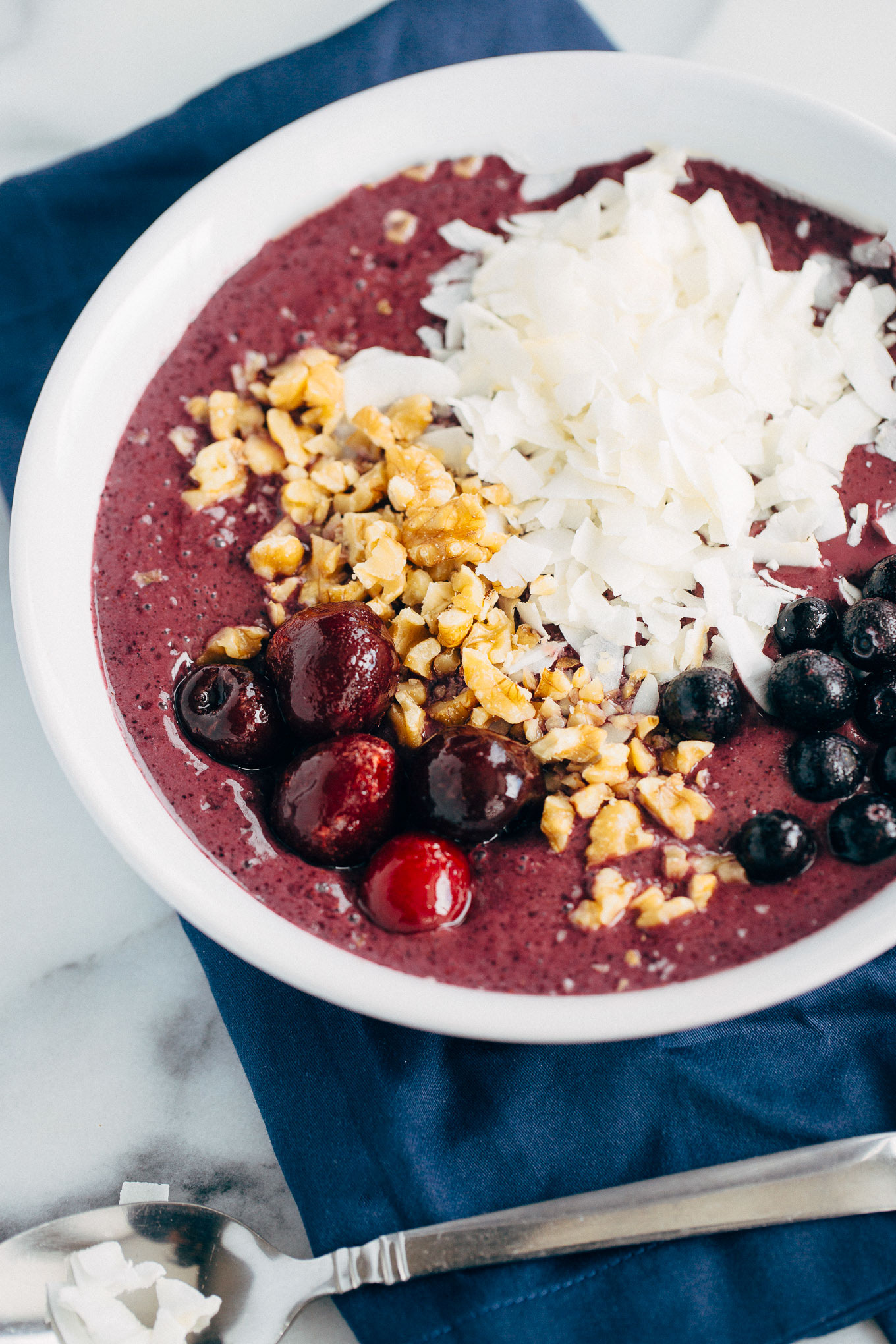 You don't know love until you've tasted this cherry smoothie bowl. 
Look at the deep red cherries surrounded by the beaming blushed in lush blueberries.
I'm telling you friends; we're witnessing a marriage consummation right before our eyes.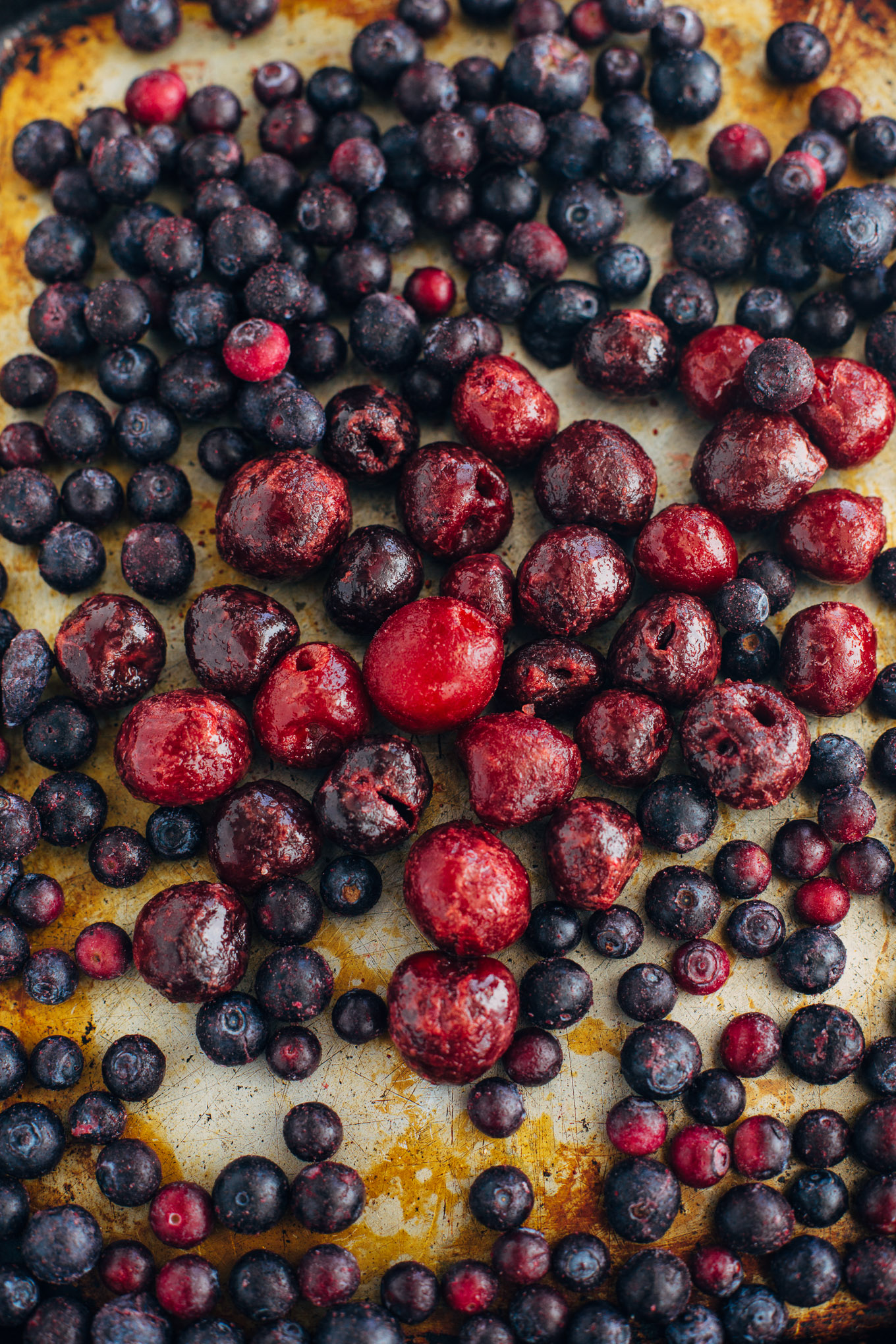 Now that Spring has sprung, NOW is the time to detox your diet, give it a reboot, and add more fruits and veggies into your life.
In other words, hook up the intravenous catheter because this cherry smoothie is what your system needs like-STAT.
I say that to say, I had the honor and privilege of viewing your Instagram page over the holidays, let's just say intervention would probably be the next step, but not just yet there's still HOPE. No judgment.
Back to the smoothie.  Smoothies are meant to be a nutritional powerhouse, but at the same time, they should be fun, light and lively and HAPPY.
ENTER:
DOS AND DON'TS
Don't:

 Toss in every fruit and vegetable in the fridge [never do that] this carefree method will cost you in calories, sugars and fat in the long run. Trust me I know. 
Do: Measure, Measure, Measure this will keep your solid to liquid ratio in balance just the way we like to do things around here.
Don't:

U

se sweeteners to add flavor to your smoothies. I know this can be straitjacket restraining, but there are other options.
Do: 

R

each for herbs, spices and Superfood powders you can't go wrong with Sea Moss, Moringa, Spirulina, and Chlorella.

I will spare you the 3 steps on how to prepare a smoothie bowl it's fairly self-explanatory, but what I won't do, is spare you on how magical this smoothie bowl is.
If you've ever wanted to know how exclamation points taste, this is it my friends.
Because darkened sweet cherries with blueberries get the antioxidants flowing, Sea Moss and Moringa add minerals, sprinkle on toasted coconut (sparingly),
  walnuts for the protein and crunch factor, and you've got a gourmet smoothie bowl that is OFF. THE. HOOK.
Ultimately, the goal is portion control without compromising taste and texture.
Have fun on your smoothie bowl making adventure.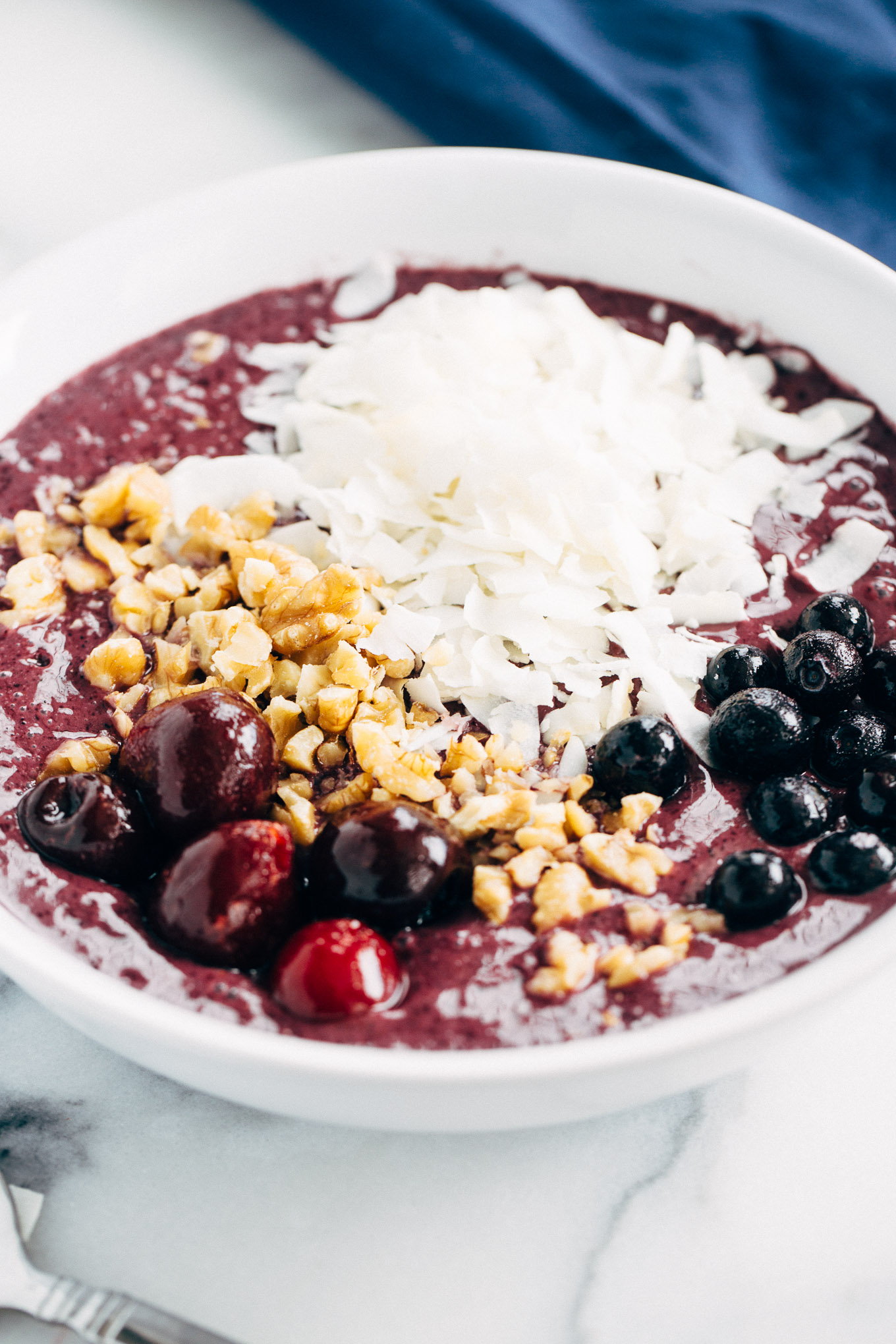 Just say I do and get on with it. 
REBOOT CHERRY SMOOTHIE BOWL
Ingredients
SMOOTHIE BASE:
1 cup of frozen dark sweet cherries
½ frozen banana
1 cup of frozen blueberries
2 tablespoons of sea moss
½ teaspoon of moringa powder
1 cup of vanilla hemp milk
TOPPINGS:
2 tablespoons of coconut flakes
2 tablespoons of chopped walnuts
Toss in a few frozen cherries and blueberries for good measure
Instructions
Pour in cherries. Add blueberries, banana, sea moss, moringa powder pour in half of the hemp milk and blend.
Drizzle in the remaining hemp milk, blend until you reach a creamy consistency.
Pour smoothie into a bowl, and sprinkle on the toppings.