You may have this quinoa salad image ingrained in your subconscious for the next 72 hours, I'm just saying.
What you see on display is a well-executed salad loaded with lively flavors, textures, colors, and lots of love.
Before I dive into this hearty heart filling quinoa salad, today is the first day of Fall. 🍂 I don't know about the weather in your neck of the woods, but here in Maryland, it's 85 degrees grab your beach towel and bathing suit kind of weather.
My food brain is ready to embrace Fall it really is, a part of me want's the caloric starches, and fats- but my body still craves leafy green lettuce and raw vegetables.
So in other words, no pumpkin recipe today although, pumpkins are on display in the grocery stores EVERYWHERE.  😩
Enter: quinoa salad segue.
The following salad is completely fancy, containing 100 % organic black chickpeas.   This cute little bean is definitely a food you want to keep on your digestive support list, it's fiber content goes beyond the fiber benefits of most beans and honestly, it's your best bean option along with irrefutable evidence of the abundant blessings our universe has to offer. 👌🏽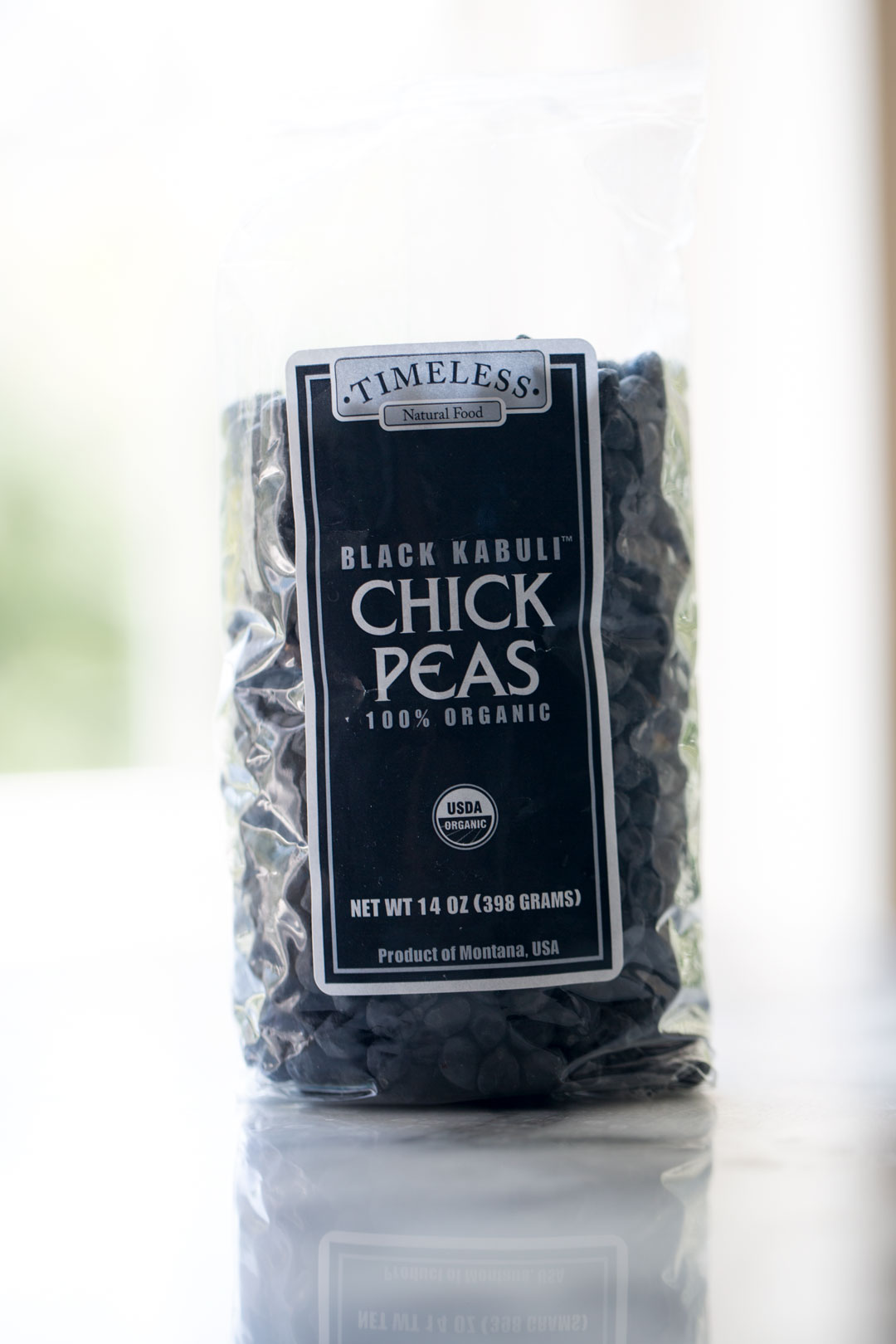 Your local supermarket may not stock it, but you can find it at MOM'S Organic Market or The Whole Foods Market.
Smile black chickpeas, you're on candid camera!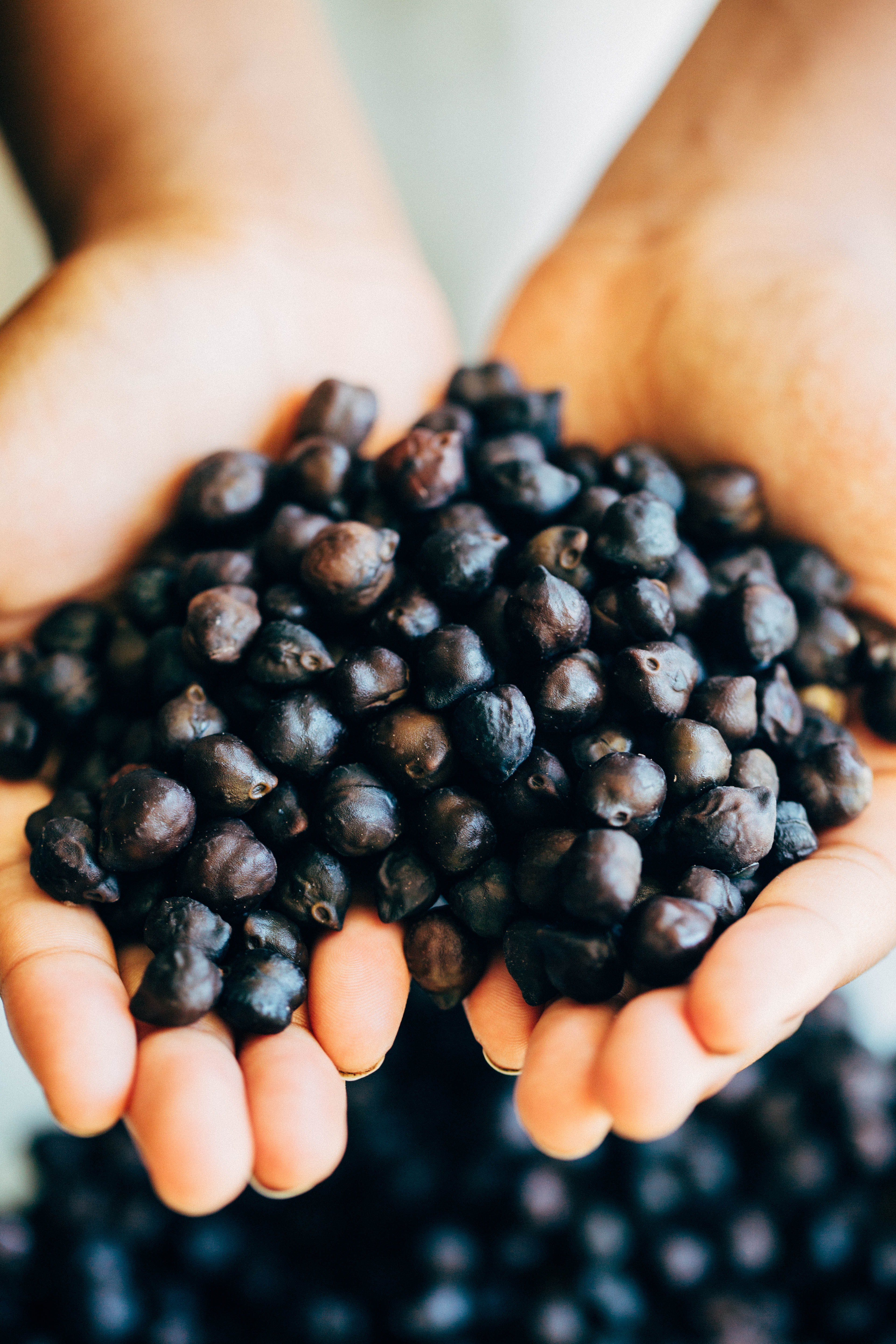 For those that know me know I am the salad GODDESS of my generation. Here's my salad template to ensure the perfect salad is made with diverse variations:
🍂 Nuts
🍂 Grains
🍂 Spice
🍂 Sweets
🍂 Fats
🍂 Bitters
🍂 Leafy
🍂 Tart
The more colorful the better the goal is to be creative, but your top priority is to make it taste good. I achieved that with this quinoa salad loaded with healthful elements that are delicious and indulgent.
A collection of mouthwatering things to be deployed.  Halve cherry tomatoes are my strategy for having more bites with every fork full.  In hindsight, I deprived myself of the experience of biting into a ripe cherry tomato and having it burst with tangy juice in my mouth, my first regret in life. SMH. Tart variation. ☑️
Chopped zucchini, red & green peppers check the bright color category as well Crunchy.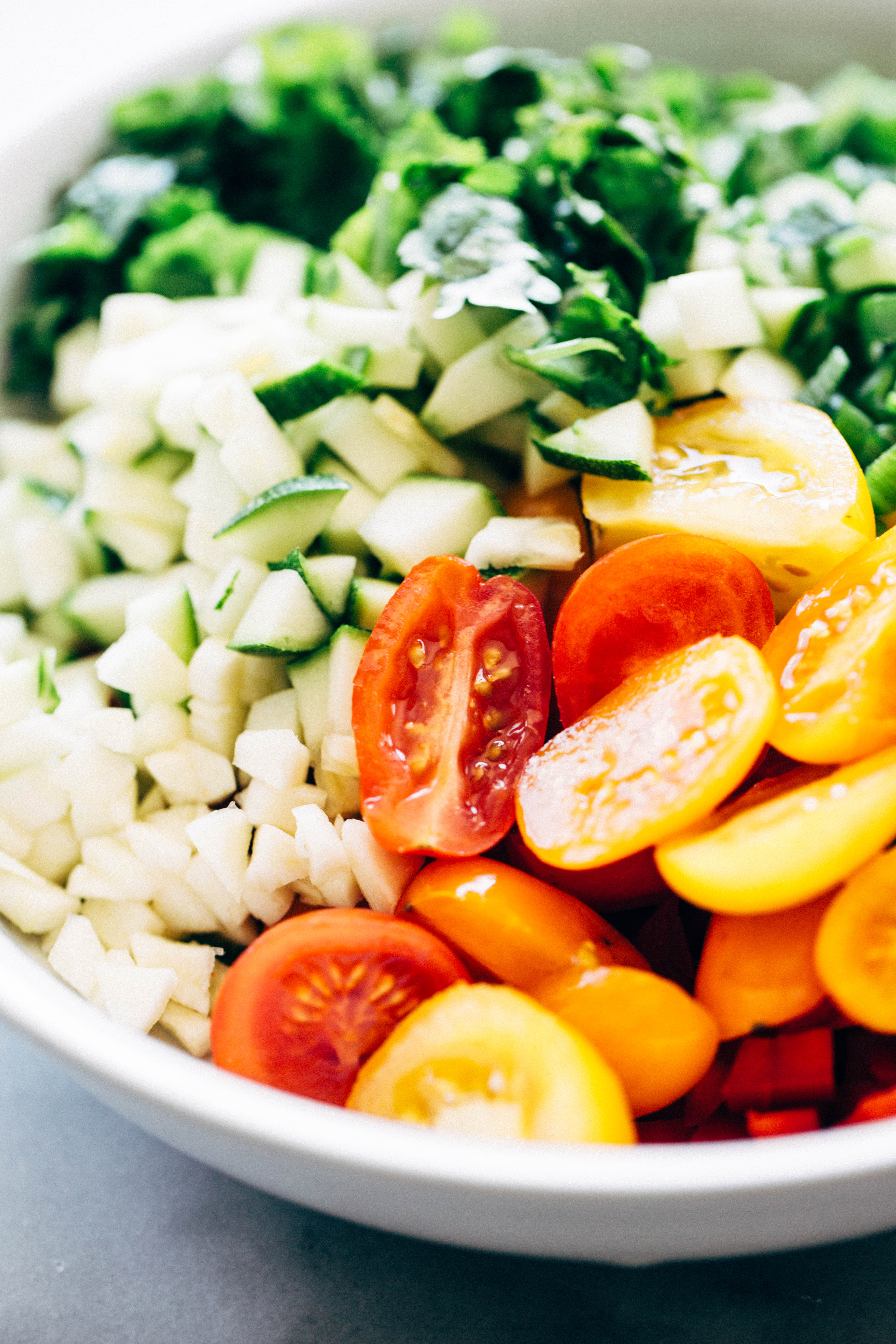 Slivered green onions and garlic HELLO spicy!
Last but not least, grainy red quinoa delivers yet another gloriously indulgent variation on crunchy and nutty.  One last thing, as if I haven't stuffed enough mellow into this salad; pine nuts for the garnish.
Voila, your salad!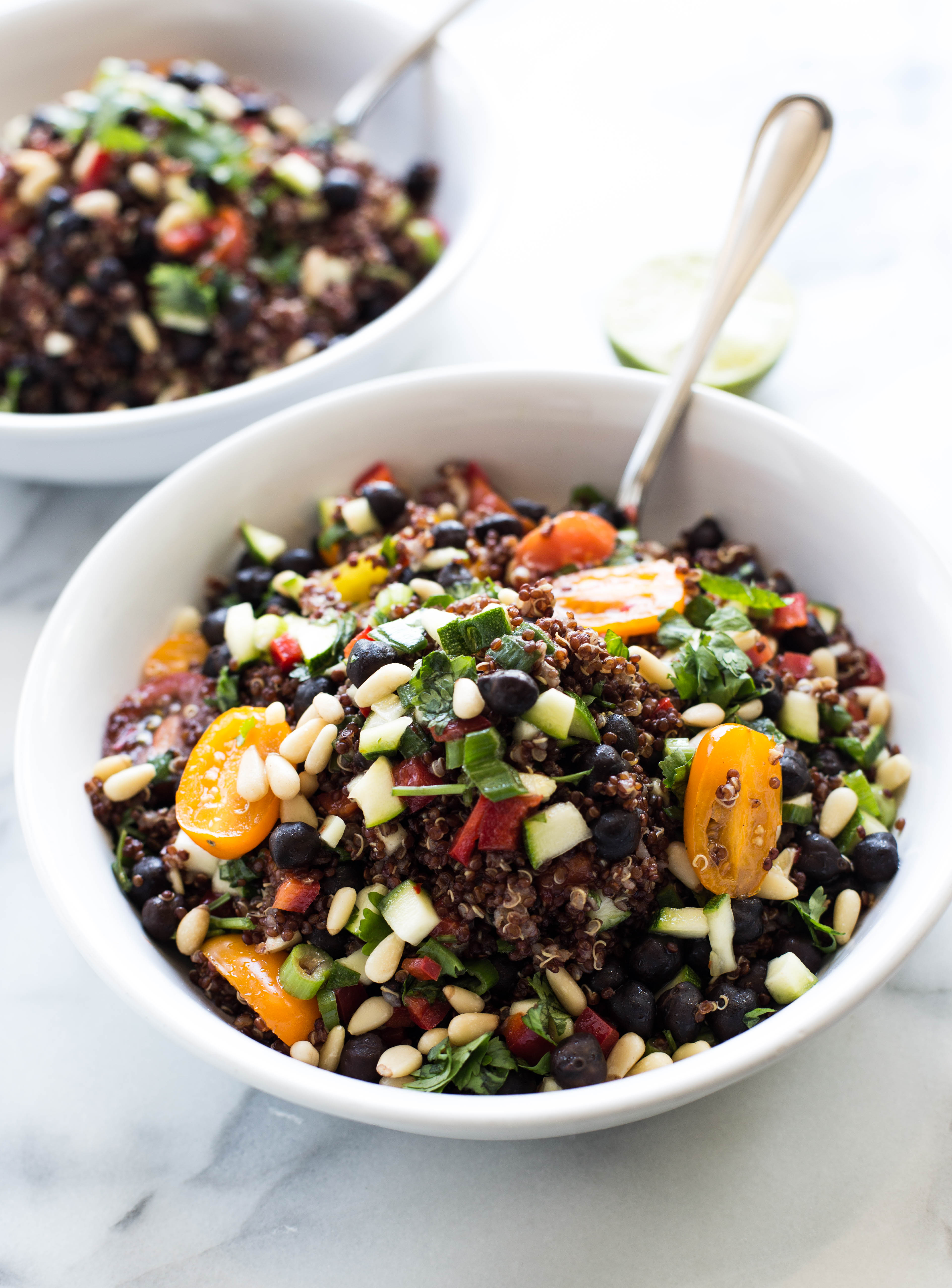 Grasp your fork and dive deep.
Nap. Repeat.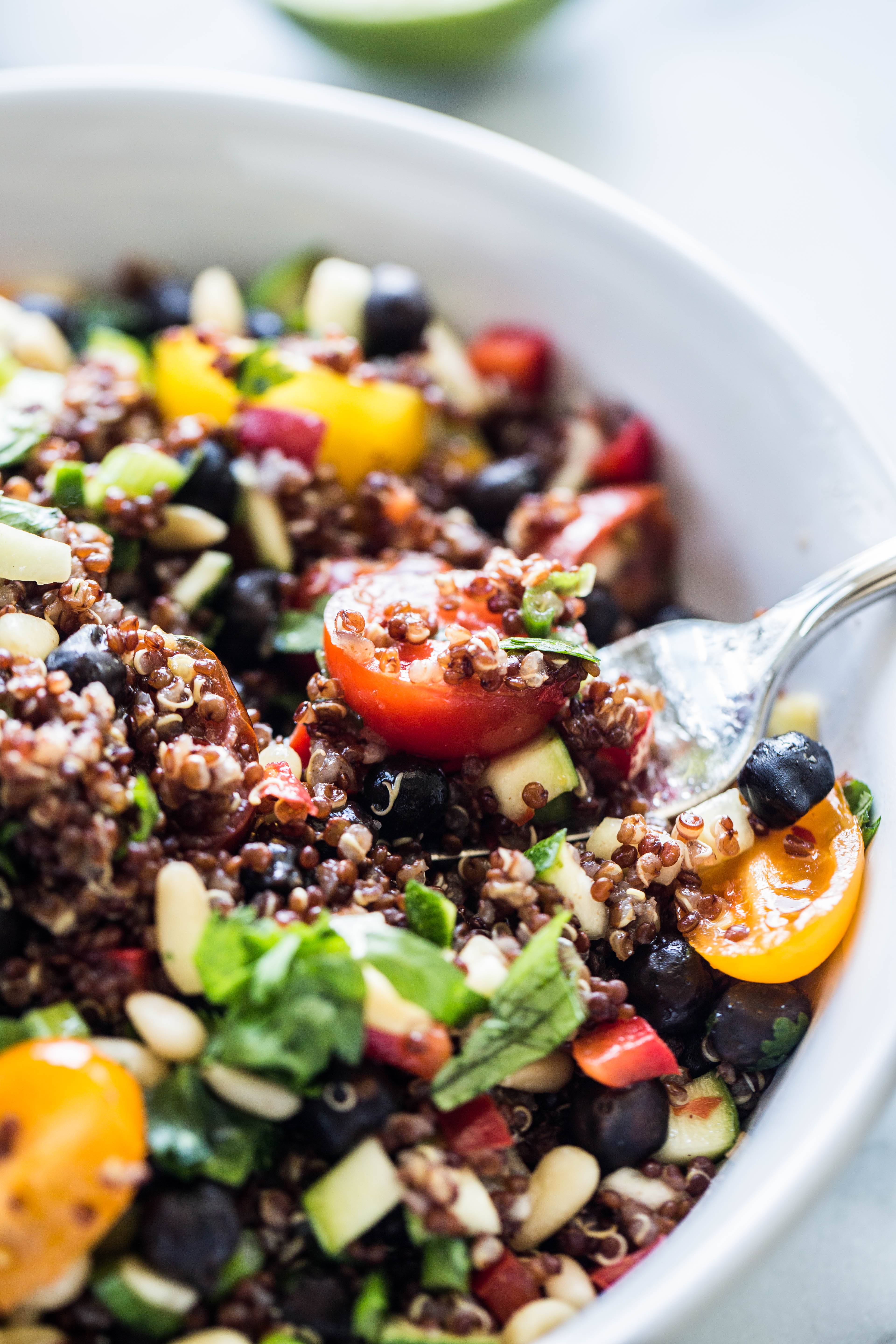 quinoa salad with black chickpeas
Ingredients
Pink Himalayan salt
1¼ teaspoons ground cumin
1¼ teaspoons ground coriander
½ teaspoon ground cinnamon
4 tablespoons of grapeseed oil, divided
1½ cups red quinoa, rinsed
2 cups of spring water
2 cups of black chickpeas, cooked
1 medium zucchini, diced
1 cup of halved cherry tomatoes
1 small red bell pepper, seeded and cut into small dice
⅓ cup sliced scallions
¼ cup fresh cilantro, chopped
¼ cup of freshly squeezed orange juice
1 tablespoon plus 2 teaspoons freshly squeezed lime juice
2 teaspoons fresh garlic, minced
2 teaspoons agave
¼ teaspoon gluten-free chili garlic paste
½ cup toasted pine nuts
Instructions
Combine 1 teaspoon of pink Himalayan salt, cumin, coriander and cinnamon in a small bowl.
In a saucepan, heat 1 tablespoon of the grapeseed oil over medium-low heat. Add salt, spice mixture, stir well and cook for approximately 30 seconds. Add the quinoa, stir again and add 2 cups of spring water. Bring to a boil, reduce a low simmer, cover and cook until the quinoa has absorbed all the water and the germ has separated from the seed 20-22 minutes. You may have to cook for an additional 3-4 minutes if there is a little water left.
Remove the pot from the heat and stir once. Place a folded paper towel over the quinoa and cover with the pot lid for 5 minutes. Uncover, discard the paper towel and transfer the quinoa to a large, shallow mixing bowl or a large baking sheet. Allow it to cool to room temperature, stir occasionally.
Next, in a medium mixing bowl, combine the black chickpeas, zucchini, tomatoes, peppers, scallions, chopped cilantro, orange juice, the remaining 3 tablespoons of grapeseed oil, lime juice, garlic, agave, chili garlic paste, and ½ teaspoon of pink Himalayan salt. Stir well and let sit while the quinoa cools, stirring occasionally.
Combine the black chickpeas salad with the cooled quinoa and mix thoroughly. Taste and season as necessary. The longer it sits the flavors with marry.
Serve, garnished with pine nuts and add cilantro sprigs for the zest factor.