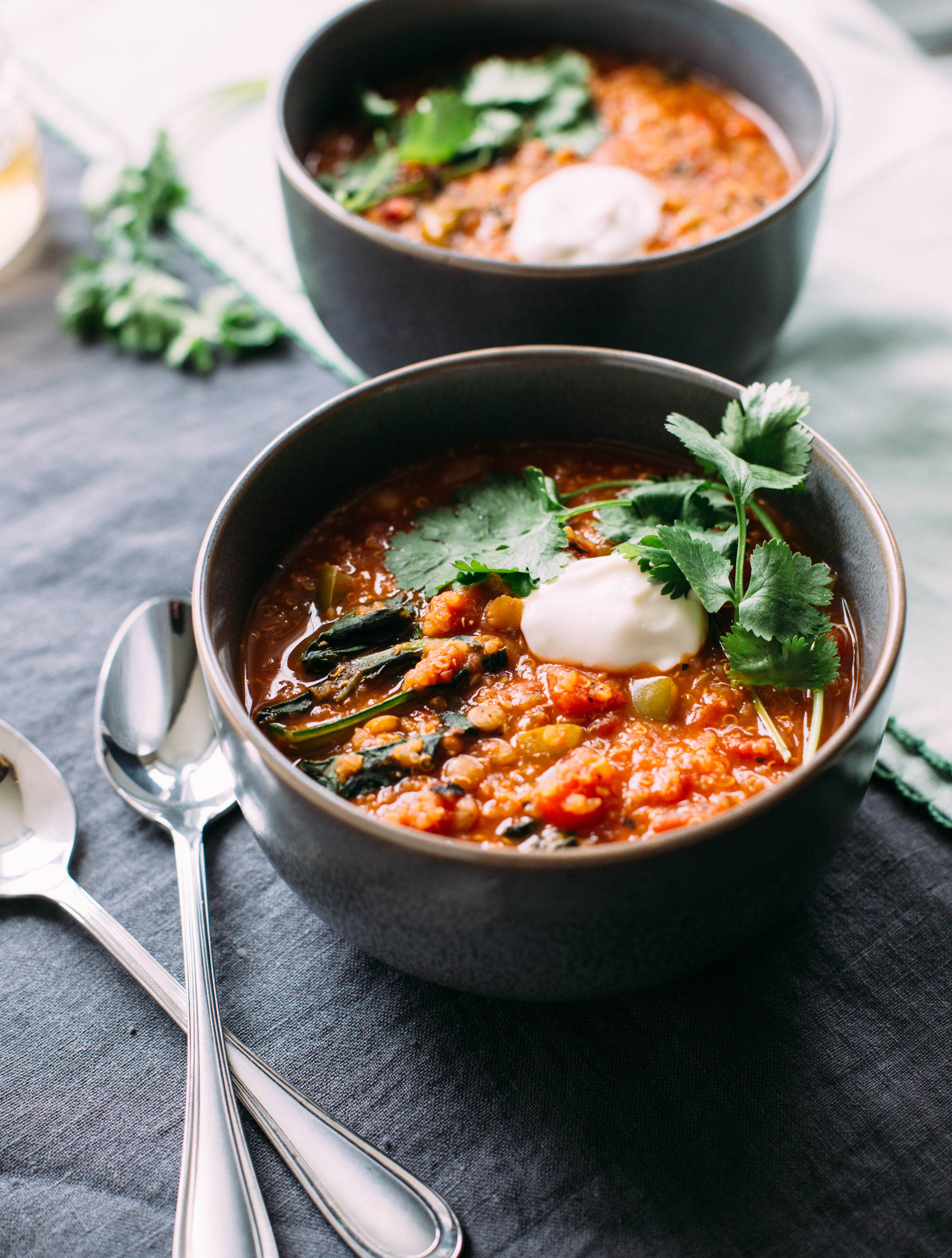 Turn your lovin' on and show this lentil quinoa chili some love because dinner is still a thing.
Fall is slowly starting to make her presence felt in the neighboorhood.  The mornings are cool and crisp, and my lawn is sprinkled with murky colored leaves that remind me, summer is over.
Today we'll celebrate Fall with a big ole pot of chili that consists of lentils/ quinoa/ fire roasted tomatoes/and chickpeas in a clean and rich tasting vegetable broth that's so delicious; it's worth every opportunity to detail its description to family/friends.
Before I walk you through on how to create this hearty and rich oh my Gosh, so good lentil quinoa chili, let's talk about chili in general for a second.
By a show of virtual hands, how many of you brag about having the best chili recipe known to man? 🙋🏽 Don't be shy.
I remember growing up there were three things you didn't discuss; religion, politics, and the secret ingredients that went into your chili.  Chili making has always been a thing since I can remember, but of course, nowadays, we have chili cook-offs and chili enthusiasts.
As I type, someone is nonchalantly making overtures setting up the opportunity to share their perspective on what the perfect chili recipe is made of, how long to cook it, and how to eat it.
Today in the spirit of tradition, here's my chili version and contribution to continue the chili making conversation.
Start off this full-flavored chili by sauteing your onions and green peppers to achieve a nice browning, and then add your spices to get the fragrant popping, this is the perfect time to add your spice because you haven't added any liquid, therefore, the smell of happiness will be that much more potent when they heat up, finish it by stirring in your roasted tomatoes, vegetable broth, add the lentil beans, chickpeas, and quinoa.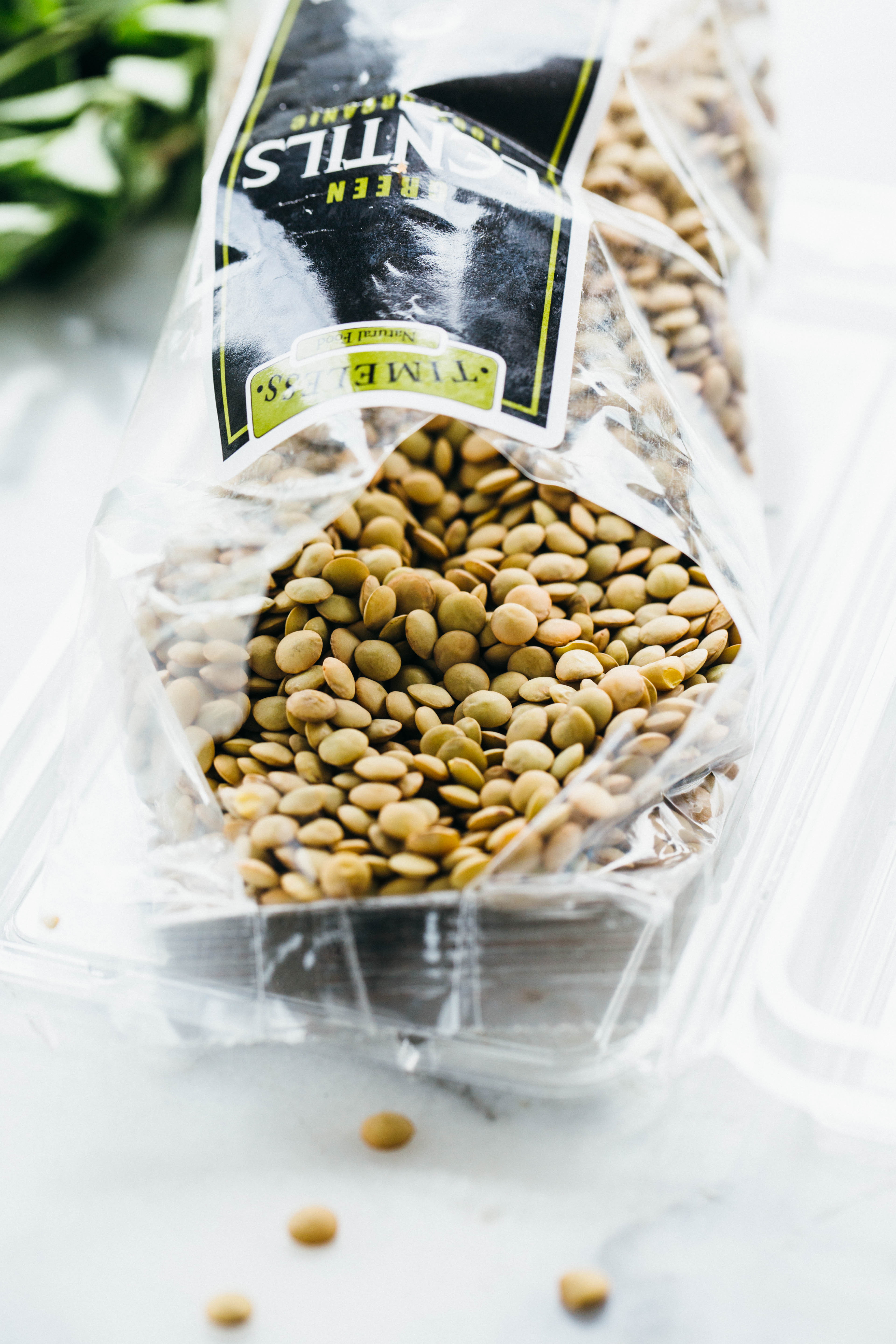 In 30 minutes come back and check your chili stir it, making sure nothing's burning or sticking to the bottom of the pot, like the beans or the quinoa. Wait for another 30 plus the lentils and chickpeas will be filled with liquid and your chili will have thickened into the perfect CHILI known to man.
Grab a bowl; this Lentil quinoa chili is ready to devour. MMMMMMMMM. So healthy and decadent, full of vegetable chunks and lots of GOOD, GOOD.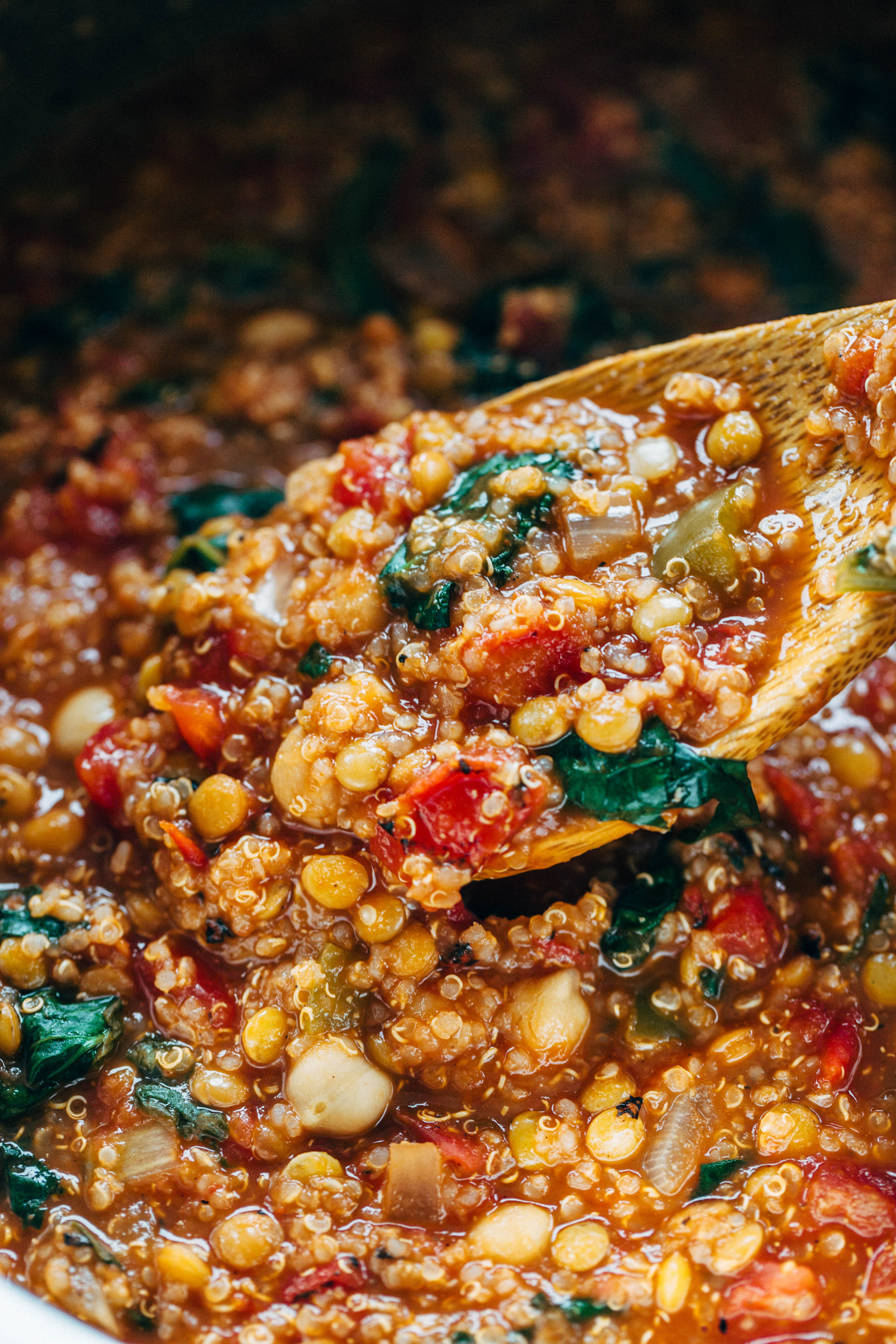 So what do you garnish your chili with? Green onions. Just green onions, huh? I garnish mine with Soy-free Vegenaise and fresh organic sprigs of cilantro grown by yours truly.
I'm such a chili snob, the tradition continues. 😩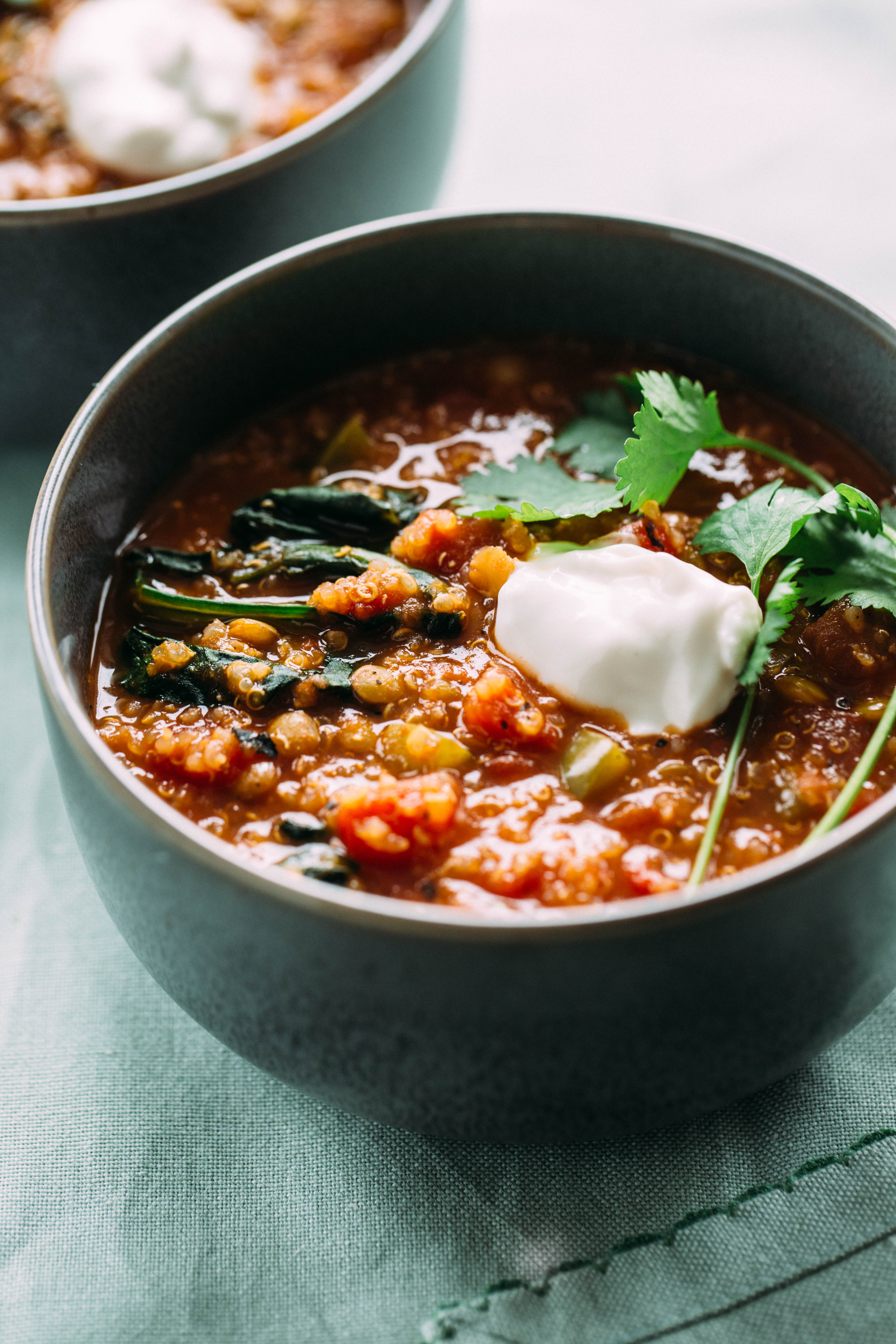 HEARTY LENTIL QUINOA CHILI
Ingredients
2 tablespoons of grapeseed oil
1 medium chopped yellow onion
1 seeded chopped green pepper
1 can of organic Garbanzo Beans drained
2 28 oz. organic cans Diced Fire Roasted Tomatoes in juice
4 cups of low-sodium vegetable broth
2 tablespoons of chipotle chili powder
2 tablespoons of garlic powder
2 tablespoons of ground cumin
2 tablespoons of fresh oregano
1 cup of dried lentil beans rinsed
1 cup of quinoa rinsed
1 bunch of organic spinach sliced
Pink Himalayan salt to taste
Instructions
Heat the oil in a large two-gallon pot over medium-high heat. Add the onion and bell pepper to the pot; cook, often stirring until brown and tender for 4 to 6 minutes.
Add the chipotle chili powder, garlic powder, and cumin, often stirring, until fragrant, 1 to 2 minutes.
Next, add in the Garbanzo beans, tomatoes, stir in the vegetable broth, oregano, lentils, and quinoa stir the mixture.
Cover and cook on low for 1 hour until the mixture has thickened. Add water if too thick, then stir in the spinach until the spinach starts to wilt about 5-10 minutes. Add pink salt to taste.
Divide the chili among 4-6 bowls. Garnish with Soy-Free Vegenaise, cilantro or green onions, if your heart desires.